23:21 (IST) Nov 18 SEC finalises 42 centres for counting of votes on December 7
The counting of votes for the Municipal Corporation of Delhi elections will be held on December 7 at 42 centres finalised by the State Election Commission here, according to an official statement. The identified centres will also be used to impart training on the use of Electronic Voting Machines (EVM), roles and responsibilities of various electoral functionaries such as sector officers, polling officials etc, it added. (PTI)
18:30 (IST) Nov 18 BJP promises app to provide MCD services at doorstep
If it wins the MCD polls, Delhi BJP will develop an app for a faceless delivery of municipal services to the people of the city, convener of the party's MCD election manifesto committee, Satish Upadhyay, said on Friday. The party will make Municipal Corporation of Delhi "paperless" and develop 'My MCD', a mobile app, by March 31 next year to render civic services to the public at their doorstep, he said in a press conference here. (PTI)
14:51 (IST) Nov 18 AAP launches 'garbage campaign' vehicles to highlight BJP's 'garbage mismanagement' in Delhi
AAP Delhi unit convener Gopal Rai and the party's MCD election in-charge Durgesh Pathak on Friday flagged off 'garbage campaign' vehicles to highlight the BJP's "garbage mismanagement" ahead of elections to the civic body. Launching the campaign, Rai alleged that the BJP had "littered entire Delhi" in the last 15 years. The BJP has been in power in the Municipal Corporation of Delhi (MCD) -- trifurcated in 2012 into north, south and east corporations and then unified this year -- for three straight terms.
13:27 (IST) Nov 18 AAP leader and MCD election candidate Mukesh Goel during a press conference at AAP headquarter in Delhi said the video was false and fabricated and that he will file a defamation case against BJP. Earlier Delhi BJP released a purported video of Mukesh Goel asking for money from a corporation employee.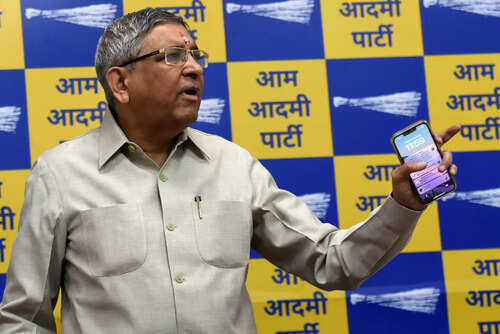 13:16 (IST) Nov 18 BJP to organise mega road show on Nov 20
Ahead of the December 4 MCD polls, the BJP will organise a mega road show in the national capital on November 20 to woo voters. According to sources, the road show will include 14 national leaders who will reach out to people in all of Delhi's 14 districts to inform them of the BJP's policies.
13:14 (IST) Nov 18 BJP accuses AAP MCD candidate of graft
BJP on Friday accused AAP leader Mukesh Goel of demanding money from a junior engineer of the Municipal Corporation of Delhi for giving gifts to party leaders. No immediate reaction was available from Goel or the AAP over the BJP's allegations.AAP chief Arvind Kejriwal should immediately sack Goel from the party, BJP national spokesperson Sambit Patra said at a press conference while showing a video of the purported sting operation on Goel.
12:00 (IST) Nov 18 Vans with garbage dumped over them parked outside AAP headquarter in Delhi as the party launches its campaign for MCD elections.
11:27 (IST) Nov 18 BJP looks to go hyperlocal with national functionaries
Senior BJP functionaries, including Union home minister Amit Shah, party president Jagat Prakash Nadda, defence minister Rajnath Singh, transport and highways minister Nitin Gadkari, Uttar Pradesh chief minister Yogi Adityanath and Uttarakhand CM Pushkar Dhami, are likely to campaign in the high-stakes MCD polls.
10:05 (IST) Nov 18 1,169 nominations rejected in scrutiny process
The poll panel rejected 45% of the nominations filed by the 15 political parties and unattached aspirants. In its final report, it said it had cleared 1,416 of the 2,585 nominations filed, while rejecting 1,169 of them. Now, 674 men and 742 women will contest the polls on December 4.
08:48 (IST) Nov 18 AAP to go door to door on 10 guarantees
AAP ministers on Thursday launched a mega cleanliness campaign ahead of the municipal elections in Delhi. The campaign was spearheaded by newly inducted minister Raaj Kumar Anand, who swept the streets in Patel Nagar, which is the ward of BJP state chief Adesh Gupta.
08:48 (IST) Nov 18 Delhi MCD elections 2022: Chandni Chowk | Know your ward
The place is steeped in history, but lack of infrastructure, congested lanes, poor sanitation and illegal structures have let Chandni Chowk down. The assembly constituency of Chandni Chowk comprises three wards — Chandni Chowk, Jama Masjid and Civil Lines. All of them have a significant chunk of trading communities.